The Recipe For A Great Family Business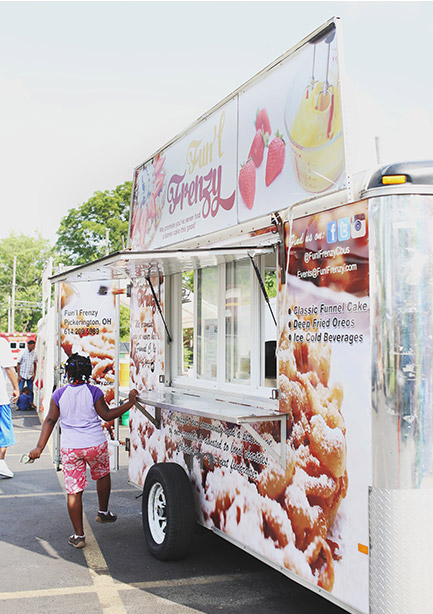 Add One Dozen Family Members
Like so many great business ideas, Fun'l Frenzy started at the kitchen table.
One brisk, spring afternoon in 2006, husband and wife co-founders, Ronnie and Stacee Roy found themselves brainstorming business ideas with family members at — where else — the kitchen table.
Stacee and Ronnie wanted to create a family business involving their children and other relatives — giving their family more opportunities to spend time together.
Many ideas fizzled under scrutiny, yet one sizzled with excitement. Fun'l cake food truck.
"We wanted to create something to bring our family closer together and create a legacy we could pass along to our children." Stacee Roy, Fun'l Frenzy, Co-Founder.
A pinch of R&D
With a great business idea simmering, it was time for the next layer: an amazing recipe.  Amazing recipe? Aren't all fun'l cakes the same?  The answer is: NO, and what makes the difference is quality.
Founders, Ronnie and Stacee don't mind sharing a slice of their secret.  Unlike most of their competitors that add water to a store bought mix,  Fun'l Frenzy makes every fun'l cake with the fresh ingredients you would find in any cake like flour, milk and eggs.  Their secret family recipe results in a melt-in-your-mouth powdered delight that is truly suitable for the First Family of Fun'l Cakes!
"For event planners looking for the best fun'l cakes for their event – its a no brainer. Even when there are other fun'l cake vendors to choose from, our made from scratch recipe is the reason customers request our fun'l cakes over others." Ronnie Roy, Fun'l Frenzy Co-founder

Fold in Family Fun
Ronnie and Stacee hold steadfast to involving their children and relatives in every aspect of the business.
It's fun and rewarding to learn and teach this business to our kids and extended family. It seems like we're always learning something new about one another — which is great," says Stacee Roy.
For, confection connoisseurs searching for a homemade delicacy to enjoy with family and friends at community events such as Red, White and Boom, Gahanna Freedom Festival, Pickerington Violet Festival and the Heritage Concert Series, Fun'l Frenzy fun'l cakes are it!
"Our high quality standards are why we promise … you've never had a fun'l cake this good!" Ronnie Roy, Fun'l Frenzy Co-Founder.